Don't Let Doctors' Day Catch You Off Guard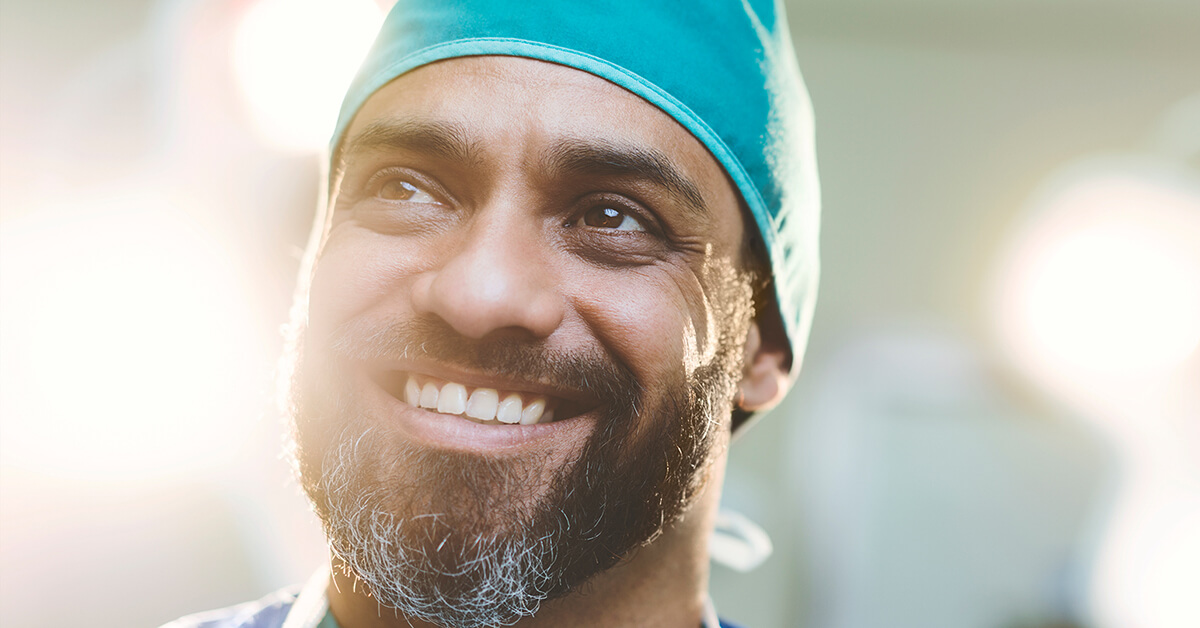 10:50 a.m. March 30: You're walking through the hospital from one meeting to another and notice that the corridors are buzzing with an abnormal number of caterers pushing carts down the hallway. You wonder what's going on for a moment but quickly shift back to mentally preparing for your 11 a.m. meeting.
Two hours and two meetings go by — yep, you worked through lunch again — and you arrive at the assigned location for your 1 p.m. meeting. As soon as you enter the conference room, you're greeted with the smell of sandwiches and a staff member who's hurriedly cleaning up from a lunch event.
And then you're confronted with an image that very suddenly changes the direction and pace of the rest of your day: a sign reading "Happy Doctors' Day."
The feeling you're experiencing can be best described with the flushed-face emoji.
If you, too — despite your organization and planning — have been late to the "Doctors' Day" party or at least found yourself panicking as the end of March draws near, you're not alone. And if you've managed to pull off a National Doctors' Day marketing strategy in record time, then consider yourself a healthcare marketing magician.
Either way, don't let Doctors' Day catch you off-guard this year. And better yet, make the commitment to plan ahead for a livened-up approach that goes above and beyond checking a box with gifting promotional items. Your doctors deserve to be celebrated in a visible way that supports your overarching marketing goals.
A Humanizing Approach Builds Trust
As healthcare marketers, we not only strive to convert consumers into patients but also to turn them into loyalists. But before we can expect patients to feel and show their loyalty toward your organization, we need to build trust. And trust comes from human connection.
While much of this human connection is formed in the clinic between patients and their providers, don't sell your impact as a healthcare marketer short. You play a critical role in laying the loyalty-inspiring groundwork to get patients in the door. In recognition of National Doctors' Day, you might do this by taking a personal approach to your marketing efforts and featuring your organization's doctors.
Tips to humanize your Doctors' Day marketing
In our experience, health systems that take Doctors' Day marketing efforts a step beyond personal, and go for humanizing, find greater success. Here are a couple of tips to help transition your approach.
Share provider profile videos
Repurpose physician-centric brand content
Share provider profile videos
Regardless of the occasion or observance month, we know video is still king when it comes to engagement and generating ROI. Experience also tells us that a straightforward, effective, and cost-efficient way to highlight any health system provider is to create a profile video.
Provider profile videos show your target audience that physicians are real people with real stories. Nothing humanizes a stranger in a white coat faster than hearing a first-hand account of how a personal health condition or experience caring for a family member who struggled with a disease or impairment led them to pursue a career in medicine.
Additionally, younger generations expect more meaningful and emotional connections. They're looking for thought leaders and experts who help others live better. Millennials in particular grant loyalty to institutions that value transparency (and waste no time sharing their opinions on social media).
So next Doctors' Day, move from a personalized approach to a humanized approach by highlighting the stories that reveal the altruistic side of your physicians. Then be sure to track an increase in new patient appointments, engagement metrics, and market share growth.
(Check out our article, Strategies to Take Video Marketing to the Next Level, if your team needs to level up their healthcare video marketing knowledge.)
Repurpose physician-centric brand content
Work smarter, not harder, by repurposing physician-centric brand content into your Doctors' Day marketing plan. A great example of this concept comes from our work with UT Health San Antonio. We developed a brand campaign for them called "Everything it Takes." The campaign connected clinical trials, scientific discoveries, and advanced medical techniques to a real person, i.e., the physician, to illustrate how academics, research, and patient care come together to improve lives.
For Doctors' Day, the marketing team could repurpose the creative assets from the brand campaign to highlight multiple physicians. Newspaper ads become social media images and TV commercials transform into Instagram reels. Ad copy can be converted into blogs and the high-quality photos can find a home on the organization's internal channels.
This approach generates engagement and helps healthcare marketers achieve more with less budget. It also shows the C-Suite that a well-executed campaign is the ROI gift that keeps on giving.
At Ten Adams, we know healthcare. We also know our way around an awareness month and how to be good stewards of scarce resources. If your team needs support for strategizing, organizing, or executing a Doctors' Day marketing plan, connect with our team!