Hospital Week: 3 Ways to Celebrate Smarter This Year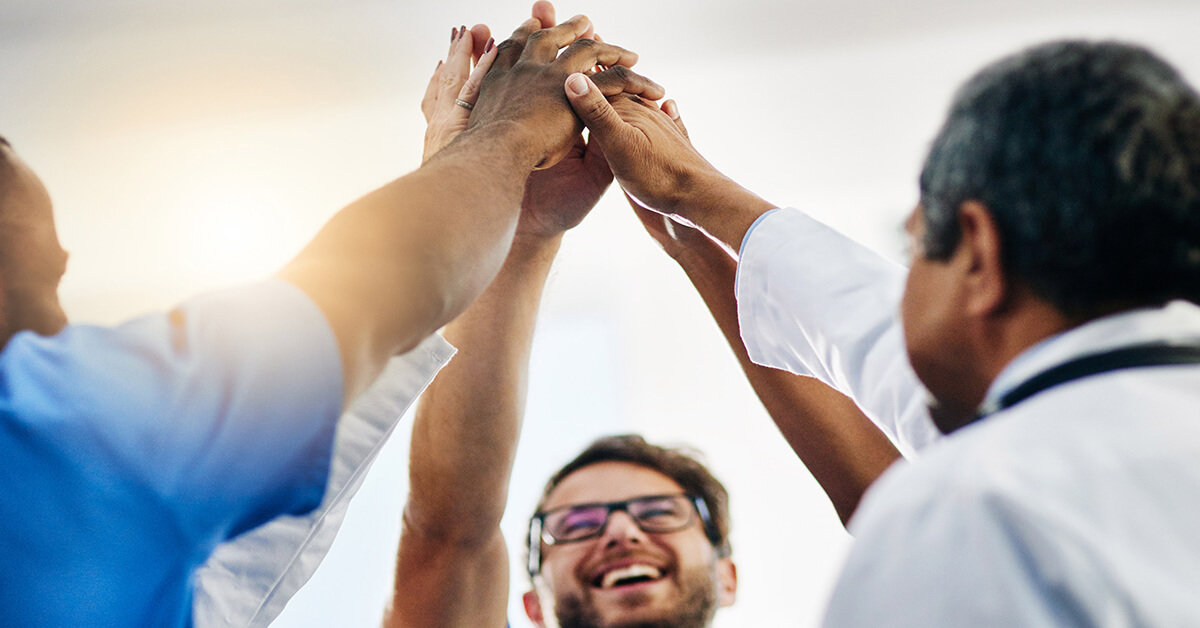 Yes. Employees love free food and t-shirts. That's why cookouts, ice cream sundaes, and a new health system shirt will continue to be an important part of any recognition week. But savvy healthcare marketers know it's time to level up National Hospital Week celebrations and use them as an opportunity to highlight how the organization supports the needs of its staff, clinicians, and patients.
Based on industry research and current trends, here are three ways to celebrate Hospital Week smarter this year.
Leverage Hospital Week to build trust in your organization

Work with HR and your DEI team to celebrate all employees

Repurpose health system creative assets
Leverage Hospital Week to Build Trust in Your Organization
Each year, the Society for Health Care Strategy and Market Development (SHSMD) asks healthcare thought leaders to highlight emerging trends for a publication called Future Scan. In the 2023 edition, one of the nation's foremost health industry analysts, Jeff Goldsmith, focused his musings on the notion of trust.
Highlight health system resources to build patient trust
Specific to marketing and communication endeavors, Goldsmith explained how the strength of a healthcare brand is a direct consequence of the trust patients place in the employees and providers. Bad patient experience = less trust.
As healthcare marketers, it's our job to define the patient journey and implement strategies that build trust. While a specific provider's attitude is beyond our control, we can positively affect areas such as website user experience, patient-facing apps, and wayfinding.
During Hospital Week, make it a priority to emphasize how your organization supports patients and families. Highlight the specific ways your processes, equipment, technology, and even scheduling practices put the patient and their well-being above everything else.
Do you offer direct messaging through the electronic health record?
Can established patients receive a same-day appointment for illness?
Does the MRI feature a more spacious core section to reduce anxiety?
Is there a payment plan option for hospital bills?
Talk about it! This is literally the week to discuss hospitals and everything they offer!
Build institutional trust with transparency
Future Scan 2023's section about trust goes beyond the importance of patient-provider relationships to address notions of institutional transparency saying, "Patients want to know that the executives running hospitals and other institutions take their needs seriously and are doing everything in their power to optimize the clinical experience."
Hospitals and health systems are not immune from employee misconduct, financial struggles, social unrest, or violence, but they can reduce fear with consistent communication about safety protocols, third-party audits, and a culture of accountability.
Patients want to focus on tests, treatments, and feeling better, not the hospital's economic viability or infection rate. So, this Hospital Week, include a few messaging points about the commitment to patient, provider, employee, and visitor safety. Your millennials and Gen Zers will appreciate the altruistic approach.
Work with HR and Your DEI Team to Celebrate All Employees
The American Hospital Association says more than 6.3 million people work in a US hospital as of 2023. When brainstorming Hospital Week celebration ideas, take time to consider the diversity and variety of employee groups that exist within your organization. Then, make sure they are represented in every aspect of your celebration.
Best practice for accurately representing your employee base requires a solid relationship with the Human Resources Department (HR). HR knows the demographic breakdown of your employee population and it's easy to create synergy between HR and Marketing by involving them in your Hospital Week planning meetings.
Use HR data to identify subgroups that often feel left out and forgotten during organizational celebrations. Think about fun activities for hospital employees on weekend or night shifts. Consider transporters who spend most of their work hours in a vehicle, medical transcriptionists who haven't stepped inside the building in over two years, and everyone who works for an off-site physician practice or urgent care.
Be sure to also involve your DEI team. Hospital Week is the perfect time to shine a light on their efforts to make health care a more diverse and equitable environment for patients and employees. That includes mentioning any DEI-related upgrades to your website or branding. Keeping those assets up-to-date with the latest ADA standards or population shifts isn't easy!
Repurpose Health System Creative Assets
The C-Suite wants you to do more with less budget and Hospital Week is the perfect opportunity to make a big splash with little cash! How? Repurpose your content and creative assets to bring attention to the amazing people who work for your organization and remind them of the impact their work has on your community.
Flip the focus from internal to external audiences
Find newsletter articles and intranet stories from the past year that recognize employees for their hard work, dedication, perfect attendance, customer service initiatives, etc., and share them on your social media platforms.
Make a collage of Daisy Award winners or employees of the month and give it prime real estate on your digital ad placements.
Grab 15 seconds of a senior administrator's town hall address and make it into a radio or OTT spot thanking employees for their commitment to patient care.
Have access to a digital outdoor board? Create a slideshow of employees using the images you already have for annual reports, community benefit reports, and community service activities.
Share external stories inside the health system
Share a recent presentation from your Chamber of Commerce or lunchtime service club. Grab the slides that give an overview of the health system's performance or economic impact and include them in your staff newsletter, magazine, or intranet site.
Showcase the success of your community initiatives and student training programs to the employees.
Identify points of common knowledge for your executives and communicate them to the entire health system.
Yes, these projects take staff time to create, but not new dollars. Repurposing archived content maximizes the impact of your employee appreciation efforts and enables you to be a good steward of your resources.
With all the observances and awareness activities, May is a hectic time for your team. If you need help executing ideas for Hospital Week or making the Hospital Week theme relevant to your brand, talk to the Ten Adams team. We know healthcare marketing.