Hospital Week: 3 Ways to Celebrate Smarter This Year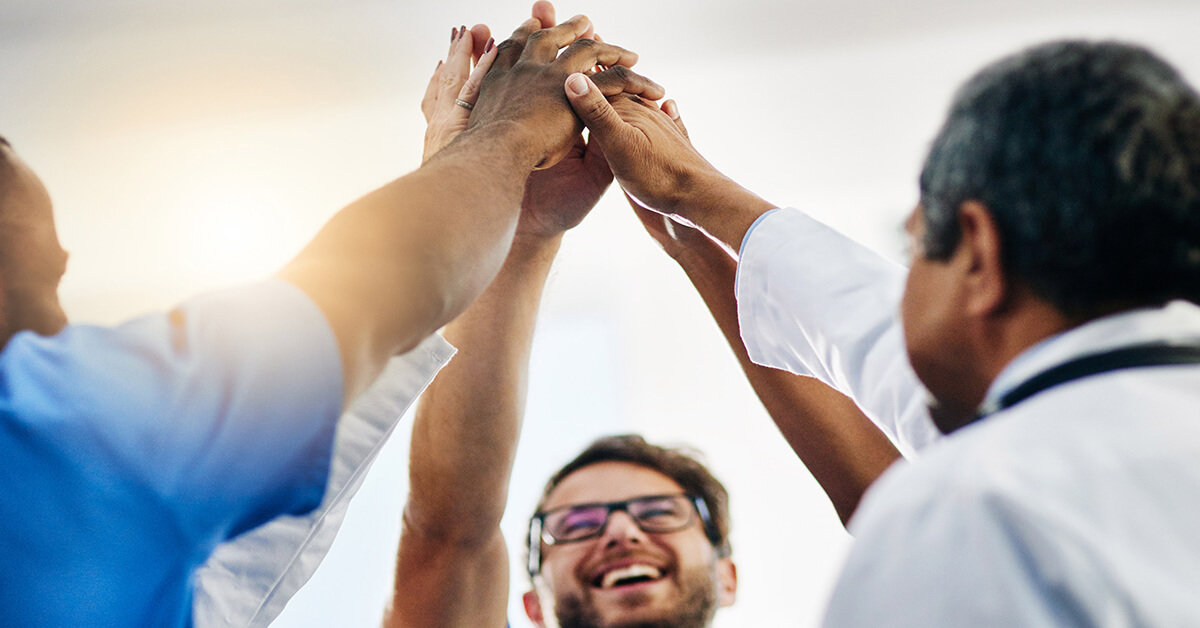 Now more than ever, Hospital Week seems like an important celebration and recognition tradition for the unsung heroes at the hospital. Through the global COVID-19 pandemic, every person associated with the organization rose to the occasion. And while that may have looked different across various departments, the common thread is a commitment to the health and well-being of your community. It's a beautiful thing, and worth a week of appreciation.
We celebrate doctors in March and nurses in May. But what about the unsung heroes of our hospitals? The environmental services staff who keep the facilities clean (thank goodness!)… The maintenance crews who keep everything running smoothly… The food service workers, volunteers, *cough* the marketing team *cough*…
National Hospital Week reminds us to recognize all of these important individuals and others. And we should – because they're critical to healthcare delivery and the patient experience, aka your brand. These individuals are your brand.
This Hospital Week, take celebrating your hospital's brand to a new level. Show that you love it more than Kanye loves Kanye. But how? Let's talk Hospital Week ideas — tips that get you out of the promo item-ordering, hot dog-grilling, ice cream-scooping rut.
First things first: Step Away from the Branded Promo Items.
Are you a real marketing professional if your organization thought that the extent of your job is to place orders for branded promotional items? There's nothing that takes the wind out of a marketing strategist's sails quite like an order for promo items for an event that deserves so much more – more pens please!
But we can't deny how much people love swag that tells the world something about themselves that they're proud of: where they work or went to school, their favorite team or musician, you name it. And we definitely can't underestimate the power of this paraphernalia, as it turns people into walking billboards.
Still, it's important to realize that any department within your organization is fully capable of placing orders. Although that doesn't mean you can send them off with your precious logo files and expect the logo to not appear stretched, reversed and flipped beyond recognition. (If you did, then you better hope that they ordered stress balls, because you're going to need two — one for each hand.)
Because they ordered 12 ZILLION.
Use one of these options to get out of the middle of promo item orders without sacrificing the integrity of your organization's brand:
Preferred:
Work with a single promo/specialty item vendor. Work with the vendor to define the scope of what can be ordered, share brand standards with the vendor and negotiate lower prices due to the benefit of being the select vendor. Some vendors will provide a "company store" website showing the breadth of items that can be ordered, which of course, has been approved by you. Require your colleagues to ONLY use the approved vendor.
Alternative:
Provide brand guidelines for the ordering department to review and share with the vendor. Require that you review and approve proofs before the order goes into production.
Note: There is an added benefit to allowing other department leaders to order direct, it moves those expenses out of your marketing budget and allows you to focus your resources on more important things.
Empower colleagues across your organization to take and share photos at Hospital Week events.
When organizations celebrate and show appreciation for their own people, they emanate positivity. It can happen organically, but our job as marketers is to track down and tell these stories both internally and externally.
Highlight Hospital Week events on social media, but don't take all of this on yourself (it can be a lot!). You can't be at every cookout or ice cream party — and it would be a wonder if you even knew about all of them happening. #WhyIsMarketingTheLastToKnow #YetTheFirstToRespond
As you learn about events taking place, ask the event host to send:
Some social media-friendly photos to you during or after the event
Information about who's in each photo so you can write a descriptive caption (people and their family love seeing themselves on social)
Send a few examples along with your request so the event host can visualize what will pass muster for your organization's social accounts, keeping in mind that they likely have no idea. Share a few of the best photos on Instagram as you receive them, and put together a Facebook photo album of all the photos that make the cut.
Learn how to deepen engagement with your community on social media by:
Promoting events
Distributing organic content
Sharing other organizations' content
Repurpose evergreen content.
This tip holds true not only for Hospital Week but always.
Evergreen content is that which doesn't have a shelf life and can be shared at any time — for example, consumer-friendly blog posts, patient stories and website content. While a season or event will usually prompt the creation of the content, it's typically the distribution channel (email or social media) that makes the evergreen content timely and applicable to your audience.
Repurposing content allows you to get more mileage out of existing content and reach new audiences. Consider repurposing National Doctors' Day content for Hospital Week.
For example, if you used video for leveraging your providers to grow your market share, then share some of the highest-performing ones throughout the week. Or compile a video featuring the highlights from each one.
Did you decide to take a holistic approach to recognizing your nurses this year? Nurses Week falls during the same week as Hospital Week. So feel free to share some of the Nurses Week content with Hospital Week.
As you approach Hospital Week, remember: Your organization's employees are your brand, so stories about them are worth being told and retold.
Bring Your Brand Back to Life
Let's work together to build your organization a brand that engages all employees across your organization and makes them feel proud. Get started today - talk with our experts.