3 Reasons to Celebrate Nurses Week Differently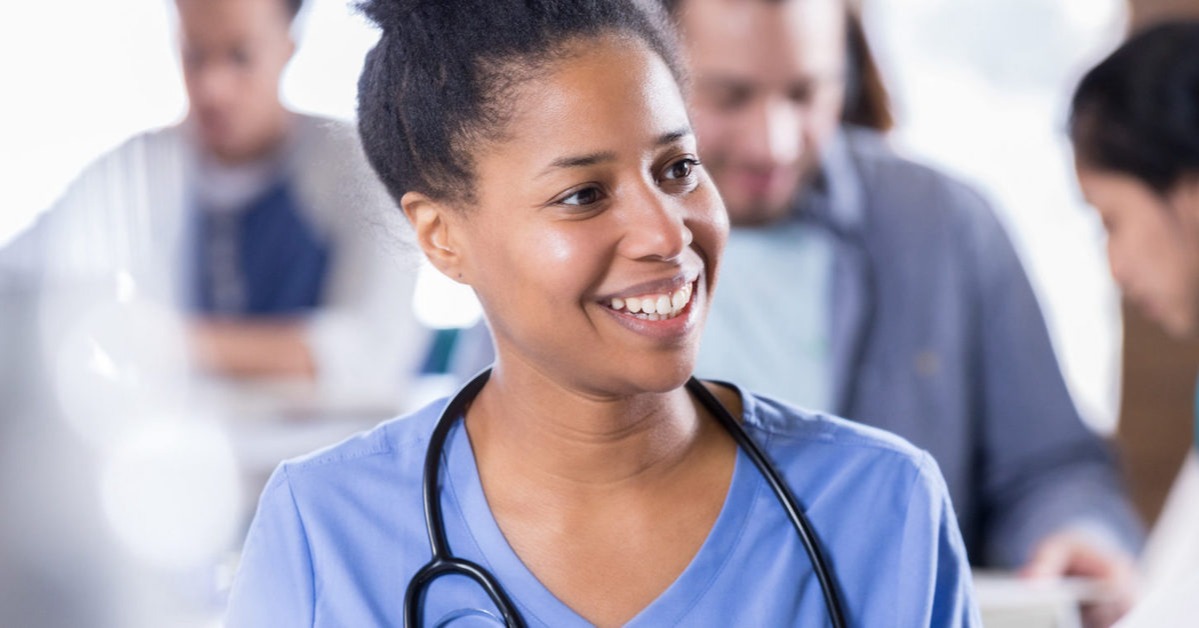 Nurses Week, held annually from May 6th to May 12th, honors the dedication, compassion, and hard work of nurses. These vital healthcare workers are the backbone of our healthcare system – continually serving despite burnout, stress, and uncertainty.
While it might seem easier to dust off an old Nurses Week marketing plan or get by with tried-and-true activities, healthcare marketers are in a unique position to help their organizations take a fresh approach to recognizing nurses.
Here are three benefits to rethinking your Nurses Week celebration ideas:
Improve Recruitment & Retention
Positively Impact Your Brand

Showcase Your Organization's Commitment to DEI
Nurses Week Celebrations Can Improve Recruitment & Retention
Healthcare marketers have an important role to play when it comes to the recruitment and retention of employees, including nurses. The nursing shortage has hit crisis proportions, as reported by the American Nurses Association (ANA). Retiring nurses are outpacing new entrants, demand for care is growing for aging patients or those dealing with chronic diseases, and workforce support is inadequate.
The shortage has caused a serious decline in morale, an increase in stress, and a general dissatisfaction with pay and mental health support. Nurses need recognition more than ever to bolster a positive organizational culture they won't want to leave.
The Value of Recognizing & Rewarding Your Nurses
Can you tie ROI to a Nurses Week celebration investment? Yes! The payoff for celebrating and recognizing healthcare employees is getting easier to prove.
When a healthcare team is highly engaged, Gallup cites a 15% increase in patient safety. Higher employee satisfaction scores also correlate with better patient experience scores, according to the Cleveland Clinic.
Recognizing and rewarding an employee's good work benefits your organization in other ways:
Affirms positive actions and sets an example for other team members
Enhances job satisfaction, reducing turnover and related costs
Boosts productivity, reducing costs and improving patient care.
Here's even more proof: Calculate the value of retaining a nurse in your hospital or health system. According to the 2023 NSI National Health Care Retention & RN Staffing Report, the average cost of turnover for one staff RN increased by 13.5 percent from 2021 to 2022, to $52,350.
Nurses Week Ideas for Hospitals
As you begin to plan for Nurses Week activities (you can never start too early), start by gaining an understanding of what recognition truly means to the nurses in your organization. Arrange a meeting with nursing leaders and administrators to gather ideas, with the goal of listening. Then partner with nurse managers to ensure Nurses Week activities are meaningful and impactful.
Nurses Week activities ideas:
Celebrate nurses with a special event to reward them for length of service but also ask administrators, peers, patients, and their families which nurses deserve to be recognized for other achievements. Note those who have made a particular effort to lend a helping hand, show compassion, provide leadership, further their profession, pursue professional development, raise money, volunteer, and promote diversity, equity, and inclusion.

Ask your mayor or governor to declare May 6 as National Nurse Recognition Day. See the ANA toolkit for sample proclamations.

Hold a video news conference or virtual media roundtable. Again, see the ANA toolkit for suggestions.

Bring in an Inspirational speaker for nurses, families, and other staff.

Dedicate a bulletin board with cards to show nurses love from administrators, staff, and peers.

Offer free food during lunch breaks for all nurses.

Hold meditation or yoga classes for nurses.

Send nurses gift cards to local restaurants and businesses, especially those that offer self-care.

Identify local businesses providing special perks for nurses.
Nurses Week Celebrations Can Positively Impact Your Brand
Nurses are critical to the success of your marketing strategy, as well as your ability to attract and retain patients. Even though patients may choose a hospital based on the expertise of a certain physician, it's the entire care team, including nurses, that impacts patient experience, loyalty, and retention.
When nurses feel empowered to provide the best care possible, patients see and feel the difference -- affecting your brand image and reputation.
How can healthcare marketers help nurses feel appreciated?
Promoting Nurses Week
Maximize participation, engagement, and coverage of your Nurses Week Celebration by using owned, earned, and paid media to raise awareness and generate excitement.
Owned media encompasses websites, blog sites, email, and social media platforms. Highlight stories about nurses with professional photography on your organization's website or blog and include campaign URLs for the pages that you can promote elsewhere.
Earned media includes placements in print publications, online, and other organizations' owned media channels. Local media outlets and consumers always want to hear about people making their community a better place. See tips for working with media in the ANA resources.
Paid media, including traditional advertising, leads your audience to your owned media channels and creates earned media interest and mentions.
If you're short on staff or time, take advantage of ANA's free National Nurses Month Toolkit for logos, social media, and marketing materials. You'll also find answers to questions like: What is the theme for Nurses Week this year?
Nurses Week Celebrations Can Showcase Your Commitment to DEI
Nurses Week affords countless opportunities to help your nurses feel valued and included. Your marketing efforts can shine a light on your healthcare brand's commitment to diversity and inclusion.
Start by not only honoring Florence Nightingale's birthday but also May 7, the birthday of Mary Eliza Mahoney, the first Black nurse to earn a professional nursing license. Learn more from the National Women's History Museum and also research stories of other minority nurses. Recognize these groups for serving as nurses despite disparities and inequities in treatment.
Showcase nurses in your own organization with diverse backgrounds and experiences—whether that's race, color, religion, sex, national origin, age, or disability. The journey to becoming a nurse is different for each individual and all bring unique perspectives to the care and treatment of patients.
Highlight nurse-led programs and services led by nurses that promote DEI, such as culturally sensitive care and language services for non-native speakers.
Organize events during Nurses Week that promote DEI and recognize the contributions of nurses from diverse backgrounds, such as a panel discussion on healthcare disparities or a diversity and inclusion networking event.
A Year-Round Celebration of Nurses
Recognizing and appreciating nurses is critical all day, every day, not just for a week or even a month. But Nurses Week gives you a timeframe to target for honoring the role nurses play in ensuring the health and wellness of patients and healthcare organizations.
These essential workers offer care and compassion and alleviate suffering when we most need it. Recognizing them has a solid impact on patient quality of care and outcomes, organizational culture, and employee satisfaction.
Start early with planning and get nursing leadership involved. Hold activities meaningful to your nursing staff, families, and patients. Then promote Nurses Week to let your community know you care deeply about the hard-working group of nurses in your organization.
Need support getting it all done? Let's talk.