Build and Retain a Strong Healthcare Marketing Team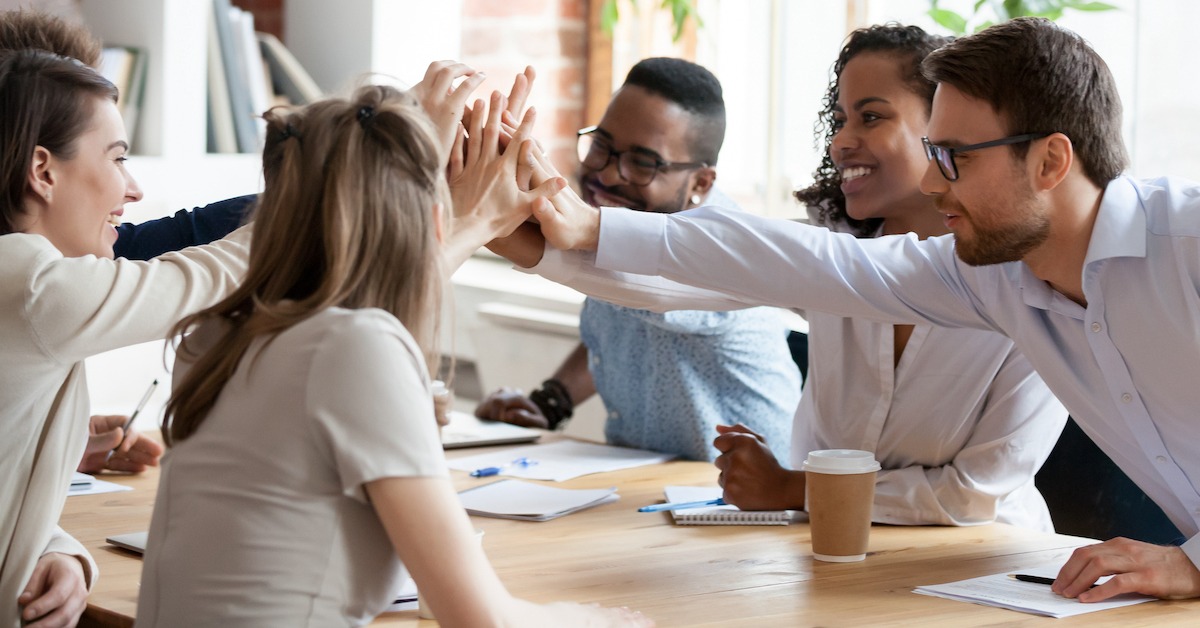 To achieve your health system's objectives and goals, you need a healthcare marketing team that can turn your organization's vision into reality—attract new patients, foster loyalty, and engage the community.
Whether you're new to your role as a leader or experienced, building and retaining a healthcare marketing dream team that works well together and stays loyal to your organization is a continual priority. It's key to driving growth and success for your hospital or health system.
7 Tips to Build and Retain Your Healthcare Marketing Team
So how do you build a strong marketing department and retain high-performing employees in today's competitive talent landscape? Here are 7 tips to run with.
Start with trust as the foundation.
Clarify team roles and responsibilities.
Align marketing goals with your health system's vision.
Set aside time to nurture your healthcare marketing plan.
Get in front of chaos and burnout.

Prioritize employee mental health and well-being.

Encourage professional growth and development.
Start with trust as the foundation
Embrace a people-first mindset. Employees in high-trust organizations—one in which team members demonstrate care and respect for each other and value everyone's perspectives—get more done, have more energy, collaborate better with their coworkers, and stay on the job longer than those at low-trust companies.
Communication is key. Managing for trust requires you to set a clear direction, give your team what they need to accomplish the goal, and get out of their way. Make time to actively listen to concerns, ideas, and feedback, and respond promptly and respectfully. Transparency opens the door for others to be honest and forthcoming.
Be consistent in your actions and decisions. When team members can predict how their leader will respond in different situations, it creates a sense of stability that can be critical to building trust. Follow through on your commitments, and you'll not only model but inspire integrity and reliability.
Master the art of empathy—the ability to understand and share the feelings of others. You'll build stronger connections and rapport when you demonstrate empathy and take the time to understand your team members' perspectives. Trust will be a natural byproduct when you invest time in deepening relationships with your team.
Clarify healthcare marketing team roles and responsibilities
Healthcare marketers with unclear job descriptions often feel like jacks of all trades, masters of nothing. Employees need defined responsibilities, goals, priorities, and a clear concept of how these fit in with the larger healthcare marketing team and organizational strategy. That shouldn't be a one-time discussion but an ongoing collaboration between you and each team member.
One way to document roles is with a RACI chart—one that defines who is or should be …
R—responsible for work

A—ultimately accountable for work

C—consulted about work or key decisions

I—informed of progress and milestones
Each one of your direct reports should understand team competencies and individual strengths, from the analytics guru to the go-to email marketer. Drawing on your diverse talents and skills will help make you better together.
Align marketing goals with your health system's vision
Your health system executive team sets the objectives and goals for your organization, but you create the marketing strategy that achieves them. Align your plan with the system's vision and become a trusted partner and problem solver for them. Remember that in a rapidly changing environment like healthcare, agility is critical.
An effective way to show your support is through brief, focused listening sessions with administrators or executives. Gain clarity on priority strategies, challenges, and opportunities. Then map out the ways marketing and communications can better achieve the organization's overall goals. After you've set or updated your plan, clarify expectations with your healthcare marketing team.
Set aside time to nurture your healthcare marketing plan
With more than 37 years of experience partnering with hospitals and health systems, we've seen that the teams most successful in executing their strategic healthcare marketing plan committed time to work on it. We recommend spending 10% of your strategy time devoted to marketing plan upkeep.
Consult this infographic to see how to subdivide strategy time on an annual, quarterly, monthly, weekly, and daily basis. Count the hours and you'll see it's only 104 hours over the course of a year (or 15 minutes a day if you like bite-sized tasks)—which works out to be a small but mighty portion of your typical 2080-hour year.
Get in front of chaos and burnout
Staying true to your strategic marketing goals—to build brand awareness, improve engagement, enhance reputation, and drive growth—will help you and your department master marketing chaos. Although it's tempting to give in to firefighter marketing, when things pop up and pull you away from your priorities, it's possible to get ahead of potential fires that can cause burnout.
The strongest marketing teams are the smartest about how they allocate time and resources. You need to know in advance where your marketing time and spend produces the highest ROI. Identify what your team is working on and free up time for them to focus on what's most valuable. Then use the Pareto Principle: Focus on the 20% of work that drives 80% of results.
Create time you don't currently have by implementing tools for marketing automation to streamline workflows and for integration to sync data between apps. Make simplicity your byword. Examine the systems, processes, and structure you use to determine how you can do more with the same number of employees and fewer hours of work.
Prioritize employee mental health and well-being
To keep your team well, you need effective ways to get a pulse on their mental health and build a bedrock of resilience. Do that through frequent (and perhaps anonymous) check-ins, using a simple way for team members to indicate the need for support and a safe space to express their full range of emotions. Track responses over time to identify trends.
To accommodate your team members' specific needs, you can alter their environment to increase concentration, split assignments into small, manageable tasks, modify break schedules to address symptoms of mental unease and provide options for a more flexible work environment.
Encourage professional growth and development
Devote time to determining and supporting your healthcare marketing team's career goals and interests. Employees who see a future with your organization and know you're invested in their professional and personal growth will be more enthusiastic and perform better.
Encourage staff to bring their development ideas to you. If your budget is small, activities could be as simple as holding a monthly book club or encouraging skill-building with a certification in SEO. Or if you can manage it, consider Society for Healthcare Strategy & Market Development training that lets your team members earn credentials in areas like strategic planning or effective storytelling.
Build, Retain, and Care About Your Team
In the end, care from fellow healthcare marketing team members and especially from you, their leader, is a must-have for most workers. Employees frequently leave even good jobs due to unsupportive and uninterested supervisors and coworkers. That's why the best leaders foster genuine connections to grow and strengthen their teams.
Whether an employee is a top performer or in need of support, show them the same respect and concern—and coach them regularly during one-on-one sessions. See each one as an individual and they're more likely to care about the long-term vision, culture, and success of your healthcare marketing team and the entire organization.
Healthcare marketing is our specialty. If your team needs help attracting, recruiting, and retaining the right employees, connect with our experts.