Boost Your Service Line Marketing Success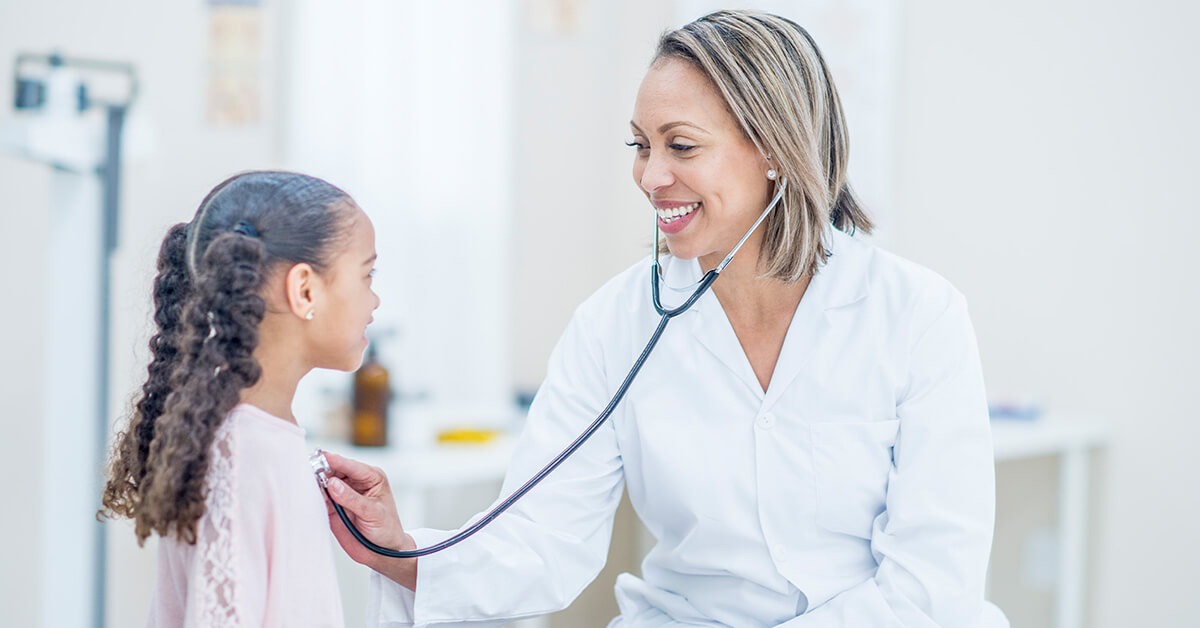 Whether it's cardiology, women's health, or cancer care, attracting and retaining patients for key hospital service lines continues to be a priority for organizational growth and sustainability. If you've been asked to put together a service line marketing plan, boost your chances for success by following these three tips:
Specify roles for marketing initiatives.
Listen to frontline experts for the service.
Communicate with the health system's C-Suite.
Specify Roles for Marketing Initiatives
Creating and executing a marketing strategy is a lot easier when everyone knows the scope of the project and their place in the plan. At Ten Adams, we use a discovery process to help all the players better understand their role in marketing health-related products and services. The process begins by identifying who sets the vision, gives direction, and executes the strategy. In essence:
Executives guide the organization's vision and help prioritize service lines. They do not focus on day-to-day operations or tactics. ​
Service line leaders have an operational understanding of their area and access to critical data that informs strategy. They use organizational targets to determine a direction for the service line team. ​
Clinical leaders interact with patients, processes, equipment, and care staff. They construct strategies and tactics that employees use to reach the service line leader's destination.​
Marketing team members create and execute strategies to meet marketing goals for revenue, reputation, utilization, etc.
This chart spells out assumptions and expectations for the service line leader and the marketing team. We use this tool to explain roles and responsibilities and find it helps the two groups work together by charting a visual course to success.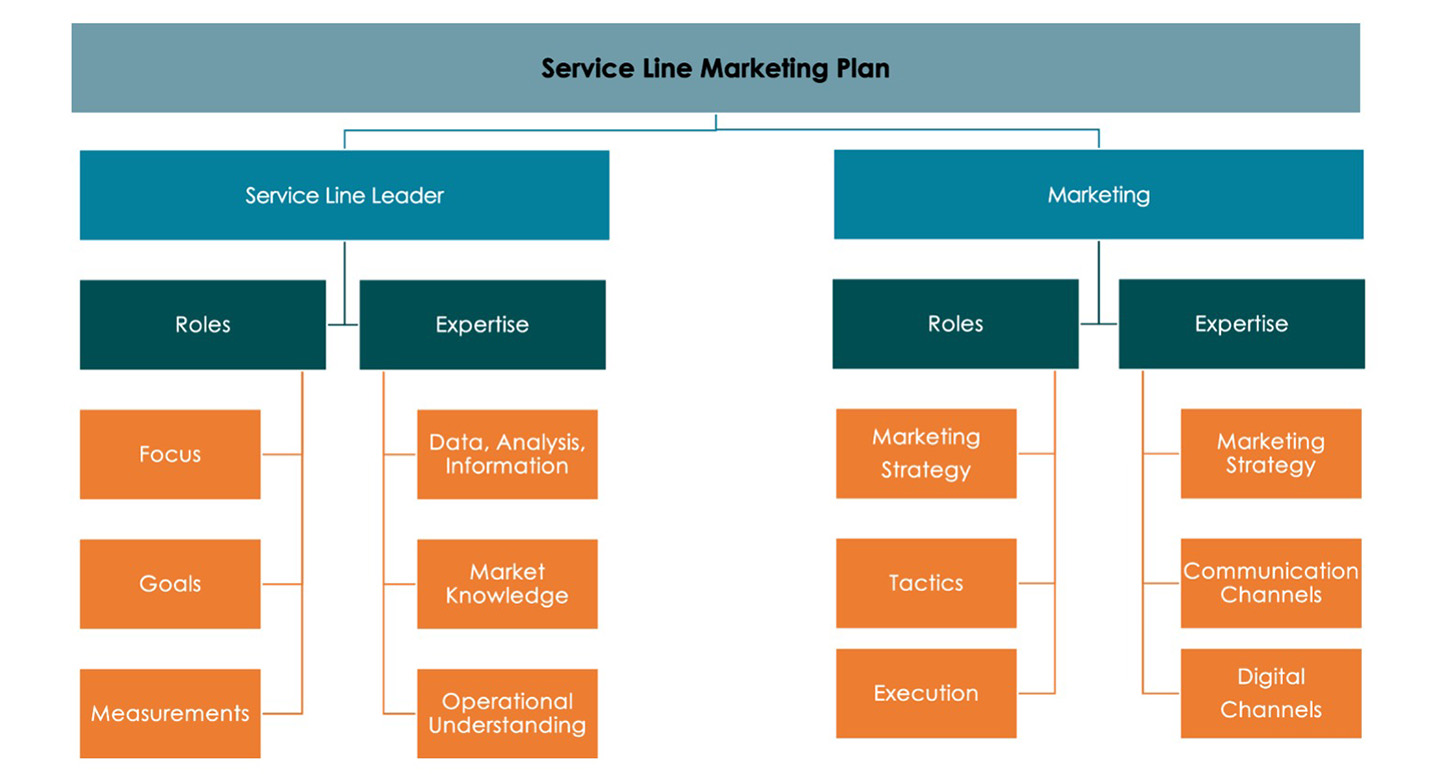 Service Line Leader
In this model, the service line leader acts as the business expert. They focus on the overall vision, specific goals, and the best use of operational data - not how many flyers need to be printed. The service line leader taps experts to define and analyze trends and share data about the service line and the direction it's heading.
Here's what we love about this approach: It allows key stakeholders to share what's important to them while enabling the marketing team to gain access to crucial information they may not regularly see. This type of collaboration also jump-starts buy-in for your service line marketing plan from day one, setting you up for success.
Clinical Leader
Lead clinicians serve as the experts for the department or clinical area. They provide the service line leader with crucial information about how healthcare is delivered and how patients interact with and respond to particular initiatives. Tap into the clinical leaders for operational knowledge and answers to some of our 20 questions that build a service line strategy, like:
What is the best thing about your care team and services?

What are the top 3 needs of your specific patients?

What are the top 3 complaints your patients have about their experience?


If you had a magic wand and could fix one thing in your department, what would it be?



Marketing Team
Modern health systems realize that marketing and communications is no longer a transactional department that only plans parties and prints posters. ​They are strategic advisors for the organization and instrumental in reaching volume and revenue goals.
​As it relates to service line campaigns, the marketing team uses the business information to develop a go-to-market strategy. Whether it's competitor intelligence, leakage reports, patient satisfaction, or quality scores, data provided by the service line leader is crucial to creating a solid foundation for a service line marketing plan.
Generating or using research elevates the plan beyond a list of tactics or random distribution channels. From messaging to media, quality data ensures that all assets work together to drive results as well as a return on investment. (If you're dealing with a decrease in resources, check out our four strategies to maximize your marketing budget.)
To recap, by specifying the roles and expertise of the service line, clinical, and marketing leaders, everyone stays focused on their identified areas and moves toward the same goal. Teams may have different perspectives, but they all combine to make a solid plan for increasing utilization.
Listen to Frontline Experts
Once roles and responsibilities are ironed out, it's time to hear from the people who spend every day doing service line work. They have first-hand knowledge of patient pain points and institutional barriers. Their collective expertise stems from in-person interactions with patients, providers, and the new equipment the hospital wants to promote.
To maximize time with the service line leaders and clinical staff, we pose the same 20 questions to each team. We cover topics like goals and measurements, internal information, patient experience, and competition. Here are five of the 20 questions:
How can we track new appointments/patients?​
What is the biggest obstacle to adding new customers?​
What is your current level of capacity? ​
Who is your ideal patient (demographic, insurance, etc.)?​
Who are your toughest competitors and what are they doing right? ​
Employing the same list of questions for every service line provides consistency in answers, design, execution, and tracking. It allows for the ability to build a successful plan that puts the right information in front of the right people at the right time.
Communicate with the health system's C-Suite
The final tip for boosting your service line marketing success involves communicating with the health system's executive leadership team. This group holds ultimate responsibility for clinical and business performance and most likely has strong opinions about which services need marketing support.
A great way to engage your executive team and find out what's important to them is to seek their thoughts and insights on a regular basis. At Ten Adams, we call this process executive visioning. Jimmy Phillips, Vice President of Marketing and Communications at Kettering Health, does a great job in this video explaining how executive visioning can secure you a seat at the decision-making table. His take-home message is simple - if you want to know institutional goals and the organization's big vision, sit down with the people in charge. Listen to them. Take it a step further by asking how MarCom can support their endeavors. This conversation provides valuable information and goes a long way in helping your team prioritize service line needs and resource allocation.
​
Our clients have built strong and effective strategic marketing plans when they specify roles, listen to front-line experts, and keep an open line of communication with the C-Suite. Now that you know what they know, you're ready to tackle the next cancer campaign or women's health initiative.
Need help sorting out the process? Ten Adams is here to guide you to service line success!