 Kettering Health


Rethinks Pink

Empowering women to take control of their breast health year-round. The Challenge:
Moving past October.
Traditionally, breast cancer marketing has been relegated to a few weeks in October — Breast Cancer Awareness Month. But at Ten Adams, we found a way to extend that window for one of our clients. Kettering Health had asked us to help them drive traffic to a website landing page and boost online scheduling during the month of October. They also wanted to communicate the idea that breast health is important at every stage of life. That gave us an idea. Why not rethink pink and make breast health a year-round priority?
The Situation:
Every day is breast health day.
Breast cancer affects 264,000 U.S. women each year, and yet, virtually all breast cancer marketing takes place during a single month: October.
Breast health is important at every stage of life — and every month of the year (with monthly self-exams). It's not just a once-a-year concern.
Kettering Health had already worked hard to provide women with a comprehensive and pleasant breast health experience, including:

Advanced, patient-friendly technology
Low-stress mammography in a spa-like environment
Numerous advanced care options
14 locations and extended hours
Patient education on monthly self-exams, cancer prevention, and genetic history
For this assignment, we wanted to do more than our client expected. We wanted to extend their promotional window beyond October. But we also wanted to capitalize on the brand equity associated with the color pink.

The solution? Create a short, punchy theme line that says it all: PINK OUT 365!

By using colorful images of strong, powerful women flexing their muscles, we were able to create a campaign that shows women taking charge of their breast health, 365 days a year. We turned the word "pink" from a noun into a verb command, and yet, it's easy to see what it means.
By encouraging women to take control of their breast health all year long, Ten Adams created campaign elements that can be used any time of the year. For instance, why not run social posts in November or January, when they're not getting lost in the October flood of pink?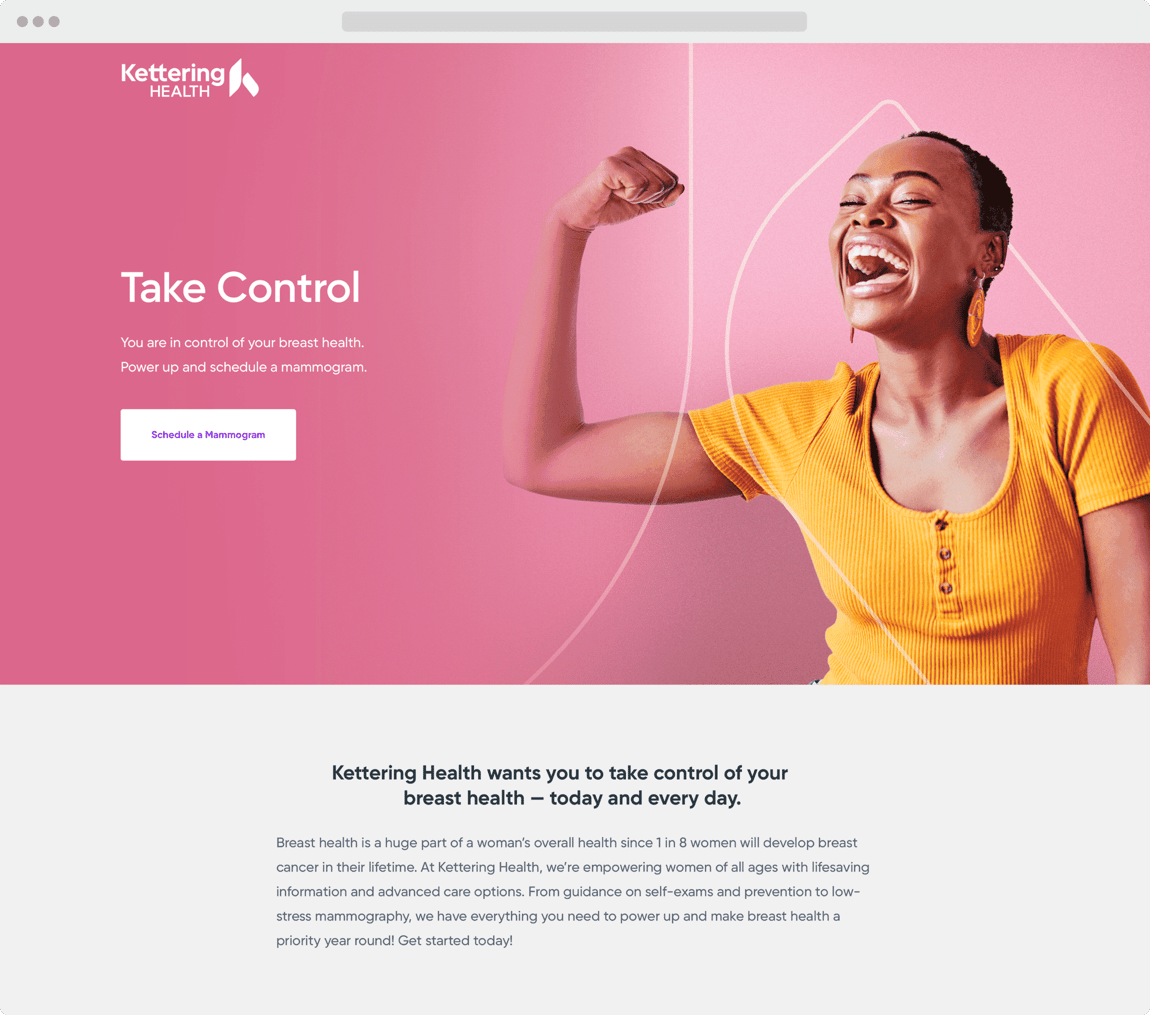 High-impact video and radio spots invite women of all ages to trust Kettering Health for support, prevention tips, and low-stress mammography. Outdoor and print ads encourage women to power up and get a mammogram. And ultimately, all tactics lead to the ketteringhealth.org/pink website for the full breast health story and a link to schedule a mammogram.
For all of these creative executions, fun, eye-catching visuals (in warm shades of pink) were used — with a focus on women of all ages. We also relied on stock images and cost-effective production techniques to develop great creative that didn't break the budget. It's amazing what you can do with a little bit of money and a big idea.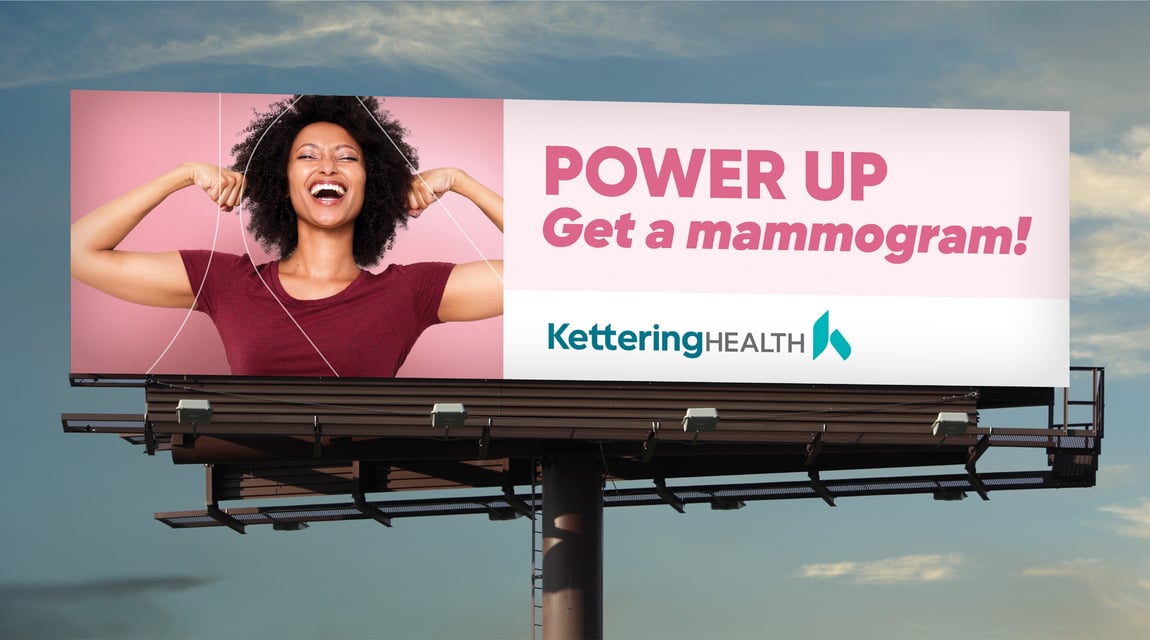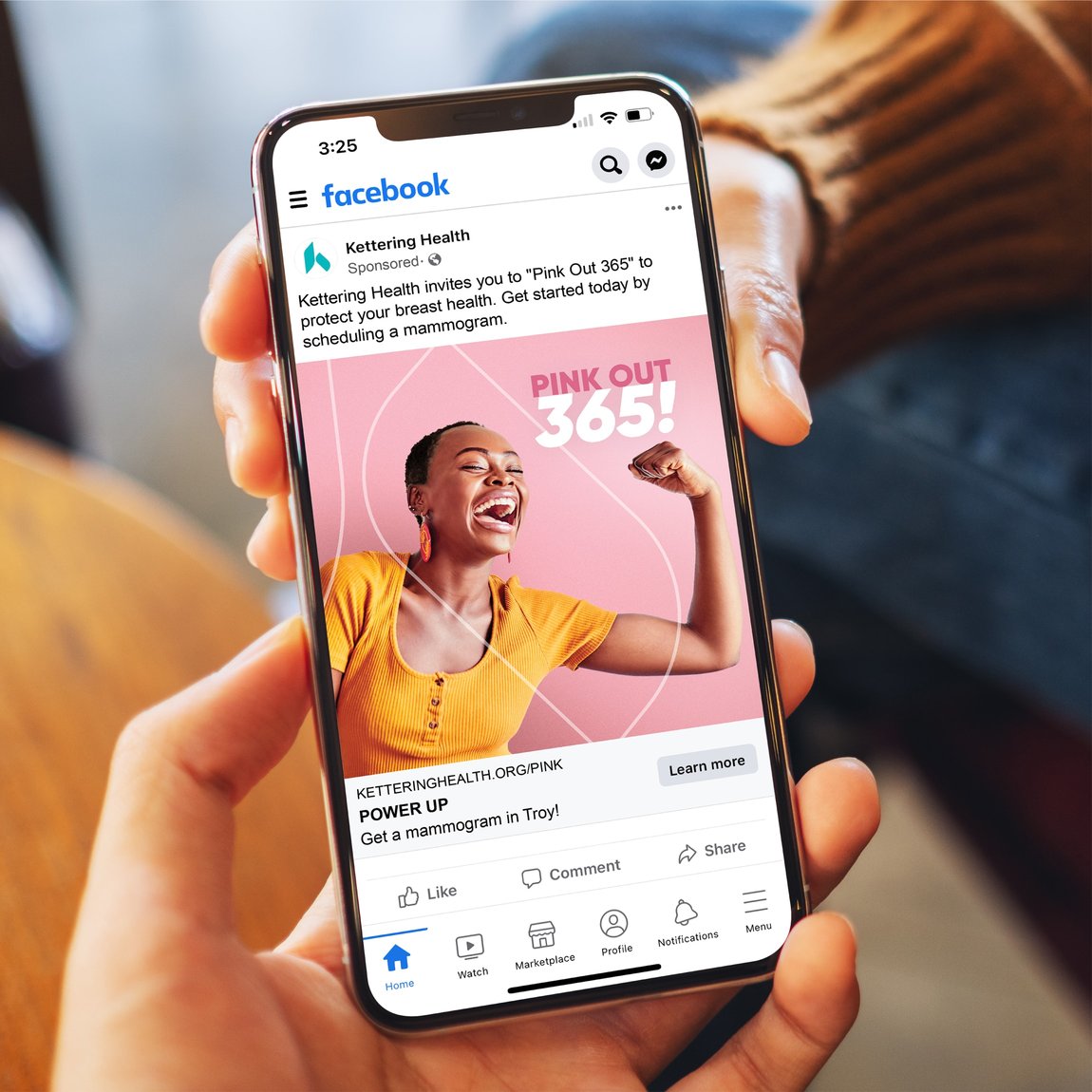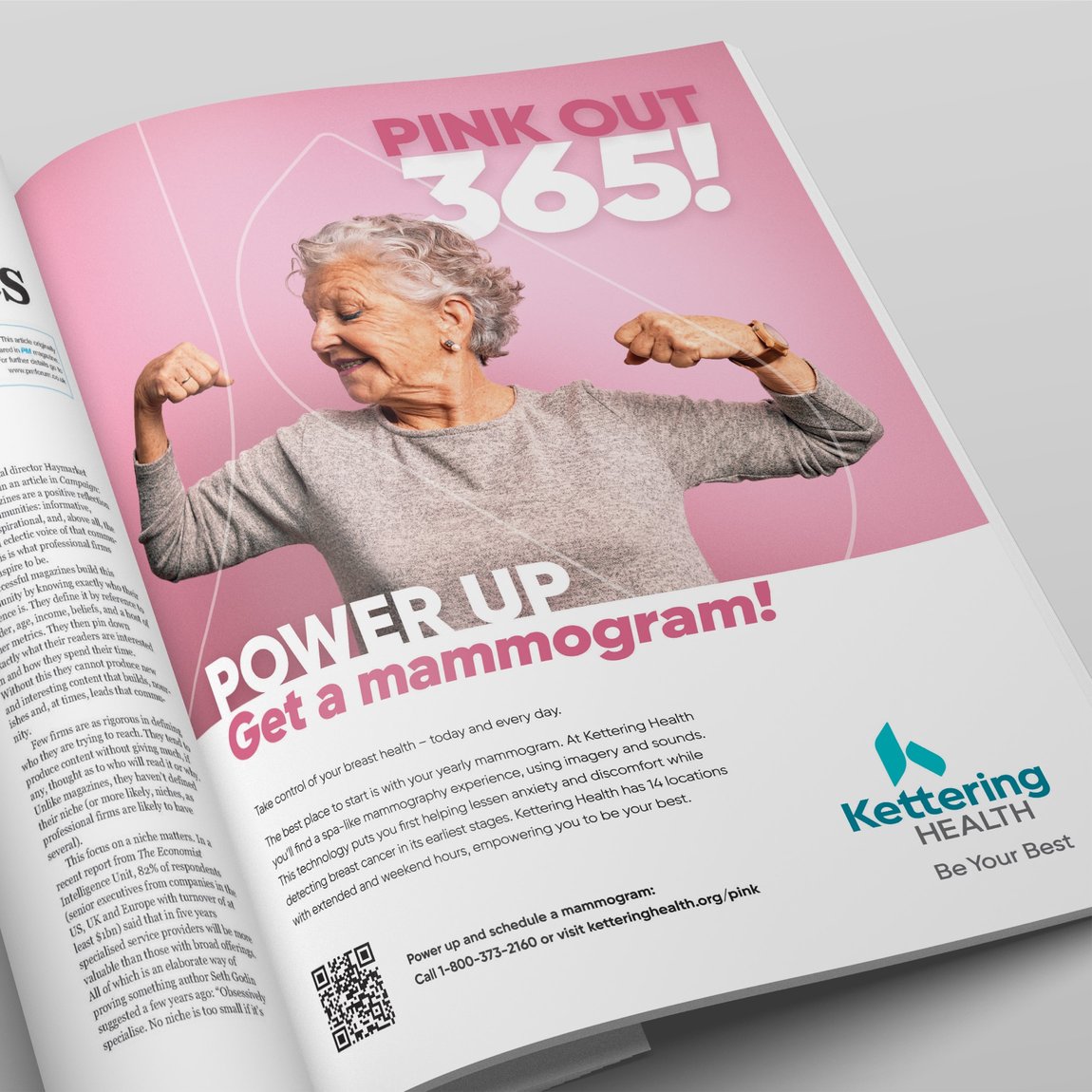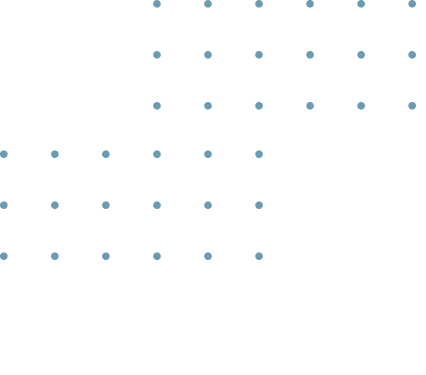 The Results
In the first six months of the campaign, 860+ people clicked to request an appointment. After the campaign began in October, YOY numbers in the month of February were up:
4%
Increase in Screenings
3.6%
Increase in Diagnostic Mammograms
8.6%
Increase in Ultrasounds