10 Essential Steps for Hospital Employer Branding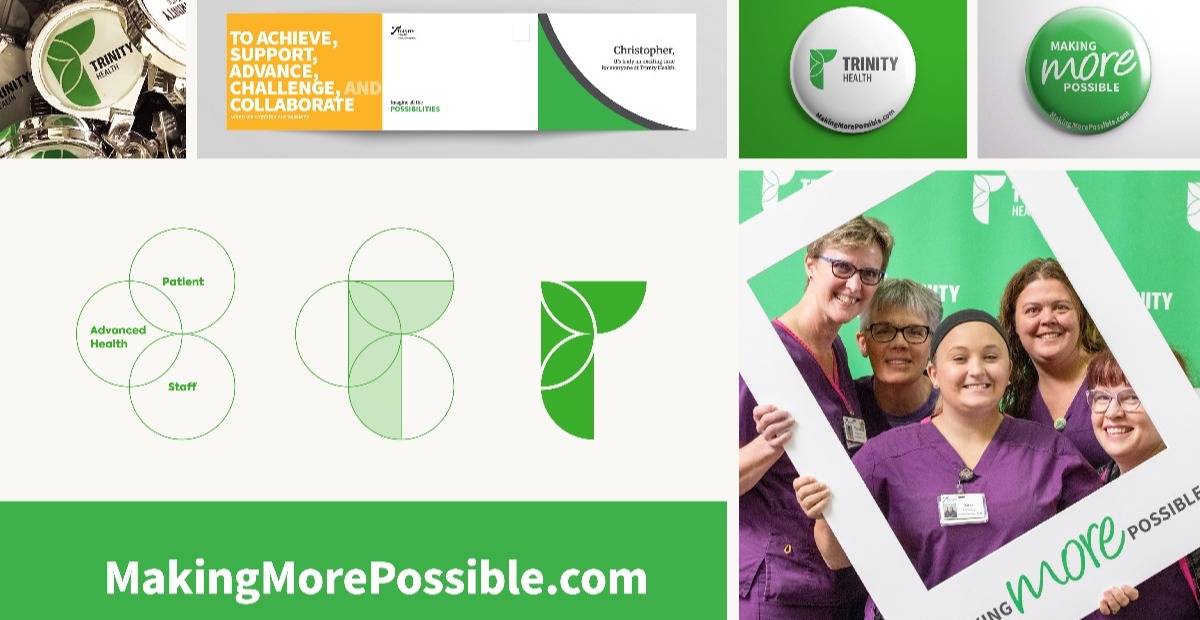 If you're looking for an opportunity to elevate the value of marketing within your hospital or health system, share a big idea that helps solve a big challenge.
Hospital employer branding is one of the most effective approaches you can take to address hospital staffing gaps. It's a critical component of a hospital's talent acquisition and retention strategy. It's also essential for building a strong, engaged, and diverse workforce.
Try these 10 steps to launch a successful employer brand at your organization.
Embrace the Value of Employer Branding for Your Hospital
Employer branding for hospitals means creating and promoting a positive image of your hospital as an exceptional healthcare employer. It's about developing and communicating your hospital's unique values, culture, and benefits so you reap the rewards of attracting and retaining highly skilled and qualified physicians and nurses.
A strong employer brand establishes you as the hospital employer of choice and builds a powerful reputation as a provider of high-quality healthcare services.
But it's important to recognize that hospitals cannot create an exceptional healthcare employee experience solely through marketing and branding efforts. Hospitals seeking top talent must offer competitive compensation packages, provide opportunities for healthcare career growth and development, promote a positive work-life balance, support an inclusive workplace culture, and commit to patient care and community service.
It takes a commitment from C-suite executives at the organizational level and a strong partnership between administrators, clinical leaders, HR, and Marketing to make employer branding work.
Align with External Hospital Branding
Employer branding must seamlessly integrate with your external brand to create a cohesive and compelling image of your organization. Just as your external brand represents your hospital's values, mission, and unique offerings to the public, your employer brand should reflect these qualities to prospective employees.
By aligning your external brand with your employer brand, you establish consistency and authenticity in the eyes of both patients and potential employees. This integration ensures that your organization's reputation as a trusted healthcare provider extends to its reputation as an exceptional employer. It strengthens your overall brand identity and attracts top talent who align with your organization's values, leading to long-term employee engagement and retention. When employer branding and external branding work hand in hand, they create a powerful synergy that sets your hospital apart and reinforces its position as a destination of choice for both patients and healthcare professionals.
Make the Case for a Hospital Employer Branding Investment
If you're trying to convince your boss and hospital executives that healthcare employer branding has a huge payoff, consider the following steps:
Identify your hospital's staffing pain points

: Is your hospital suffering most from a shortage of qualified nurses, physician burnout, or low employee satisfaction rates? Or all of the above? Show how healthcare employer branding can help your hospital address these pain points.

Research and gather data:

Homework counts. Collect data on the current state of physician and nurse turnover, employee satisfaction rates, and the cost of healthcare recruitment and training.

Outline the costs and ROI:

Present the costs of implementing a hospital employer branding strategy, emphasizing tools and tactics of healthcare employer branding that will bring in and keep exceptional physicians and nurses for your hospital.
Quantify the returns on this investment in employer branding, such as reduced recruitment costs, greater retention of top nurses and doctors, increased employee productivity, better employee engagement, and improved patient satisfaction.
Establish a Separate Budget for Hospital Employer Branding
If it feels like hospital employer branding projects often fall to the back burner, make it a priority to keep devoting specific and protected dollars to the cause. Set the employer branding budget as a percentage of the overall hospital marketing budget. Partner with HR to determine if there are shared funds available.
Allocate the employer branding budget for your hospital or healthcare provider using common buckets such as incentives, recognition programs, continuing education, events, and recruiting packages. By setting the directive at budget time to finance employer branding, you'll be able to better prioritize and control it as the year goes on.
Understand the Current Employee Experience
Your hospital employees know best what a job with your healthcare organization is like on the inside. Use their guidance to define your hospital employee brand:
Online Employee Experience Survey: A well-crafted survey can capture perspectives about employee experience and brand (what makes you a unique healthcare provider, what's good, what's not, why would others want to work here).
Sometimes surveys don't capture all the context and nuance of employee input. That's where focus groups come in.
Live Focus Groups: A skilled, impartial moderator can dig deeper into employee experience perspectives and ideas to address or solve challenges and advance a strong employer brand. Focus groups can validate (or not) feedback gathered in surveys. Focus groups also open more dynamic, energized discussions about what employee experiences work (or don't) in your organization and how to articulate the positive.
Audit Current Hospital Employee Communications
How are employees learning about changes in the hospital? Shifts in healthcare happen daily, even hourly. Ask your doctors, nurses, and other employees which communication tools and frequencies work best, such as emails, the intranet, newsletters, text alerts, or in-person and team meetings and discussions.
Define Your Hospital Employer Brand
Focus on your hospital mission and values:
What do you want your hospital to be known for? What are your core values? What makes your hospital a great place to work?

What is your hospital's purpose? What are the values that guide your healthcare organization?
Make sure your employer brand reflects these things.
Equipped with the knowledge of what makes your healthcare organization a wonderful place to work, you're ready to establish your value proposition. This key statement communicates the potential and promise of building a satisfying career within your healthcare system.
Next, forge an employer brand platform and messaging framework to help differentiate your organization from competitors and articulate your employer brand's mission, personality, and voice.
Create Personas for the Employees Your Hospital Wants to Hire
Marketing—including hospital employer branding—only works when you know and understand your audience.
What roles and employees are you trying to attract to your hospital with your employer brand? What are their needs and wants?
Create personas for the employees your hospital wants to hire:
Personas help you understand your target audience. Tuning into their needs, motivations, and goals helps you develop more effective employer marketing and recruitment materials. This makes a big difference in your hospital's success in hiring and keeping the best staff.

Employer branding personas help you measure the effectiveness of your hospital branding and recruitment efforts. Tracking the results of your hospital marketing and recruitment efforts helps you see which personas respond the best to your employer branding messages.



Execute a Successful Employer Branding Program for Your Hospital
Now it's time to make it real. Create, execute, and measure a remarkable employer branding strategy for your hospital:
Always focus on the goal:

Enhance your hospital's employer marketing and reputation and attract and retain top physicians and nurses.

Develop healthcare employer brand messaging and visual identity:

This creative work—both what you say and show—should showcase the uniquely superior experience that encourages the best doctors and nurses to work for your hospital. Highlight how you empower them to connect with patients and provide elite healthcare. Emphasize employee benefits, work-life balance, professional growth, and "superstar" opportunities, as well as your hospital's commitment to diversity and inclusion.

Connect through multiple channels: Communicate your employer branding on your hospital's career page, marketing and social media platforms, hospital hiring and job boards, and healthcare recruitment events. Keep your hospital's strong employer brand messaging and visual identity consistent everywhere you connect with top-talent prospective employees.
These proven messaging tools and guidelines ensure that your messages and unique employer value proposition stay consistent through every candidate or employee interaction.
Measure the Effectiveness of Your Hospital Employer Branding
Keep a steady pulse on the efforts and time spent on hospital employer branding. Measuring employee satisfaction, understanding of the brand attributes, communication and awareness of values, and morale will help tell the story. Check patient satisfaction metrics. See what you can learn from their interaction with staff. That feedback reveals opportunities to improve culture and where training may be needed.
Track the number and quality of doctor and nursing candidates engaged by your hospital employer branding and marketing. Monitor and review metrics for employee engagement, retention, and employee satisfaction, as well as the performance of your social media campaigns and the traffic and response to your career page.
Use These Additional Tips for Successful Employer Branding in Hospitals
Be authentic.

Don't try to be something you're not. Your employer brand should be an accurate reflection of your hospital's culture and values.

Highlight your employees.

Let your employees tell their stories. Share their accomplishments and what they love about working at your hospital.

Showcase your culture. What is it like to work at your hospital? What are the benefits of working for you? Use your employer brand to show off your unique culture.

Be consistent.

Your hospital employer brand should be consistent across all channels, from your website to your social media to your employee interactions.

Be patient.

Employer branding takes time. Don't expect to see results overnight. Keep at it and you'll eventually build a strong hospital employer brand that attracts and retains top talent.
Take Confident

Next

Steps

to Get Started

with Employer Branding
Everything you know about branding and marketing will help your hospital recruit and keep the best employees.
You and your marketing team win big when you create a captivating hospital employer brand:
Dramatically increase marketing's value to your hospital or system.

Get positive recognition from your managers and executive leaders, elevating the marketing team's job satisfaction and growth opportunities.
If you're ready to elevate your hospital's employer branding and the value and recognition of your healthcare marketing team, Ten Adams is here to help. Contact us today.