 Optimize operational processes and
improve the patient experience

while reducing costs.

Healthcare digital transformation is not about how much technology you have, but how digital your organization has become. From patient research through retention and every touchpoint in between, it's never been more critical for hospitals and health systems to capitalize on the efficiency that comes with digital transformation opportunities.
We assess and quantify your digital maturity, evaluating your digital capabilities, your team, technology, and processes. That truly improves the efficiency, effectiveness, and productivity of patient care.
We develop a comprehensive strategy including an implementation roadmap for process improvement, meeting external expectations, and boosting the internal productivity of your team.
We provide data on performance and intelligence to create clear, consistent, proactive insights and transformational goals. Whether you're dealing with legacy systems, websites, online databases, or automation processes, we're here to help.
At Ten Adams,
we guide your organization through a digital journey

that creates fundamental, lasting organizational changes by streamlining your operations, enhancing the patient experience, and making on-demand patient care more accessible for your patient population.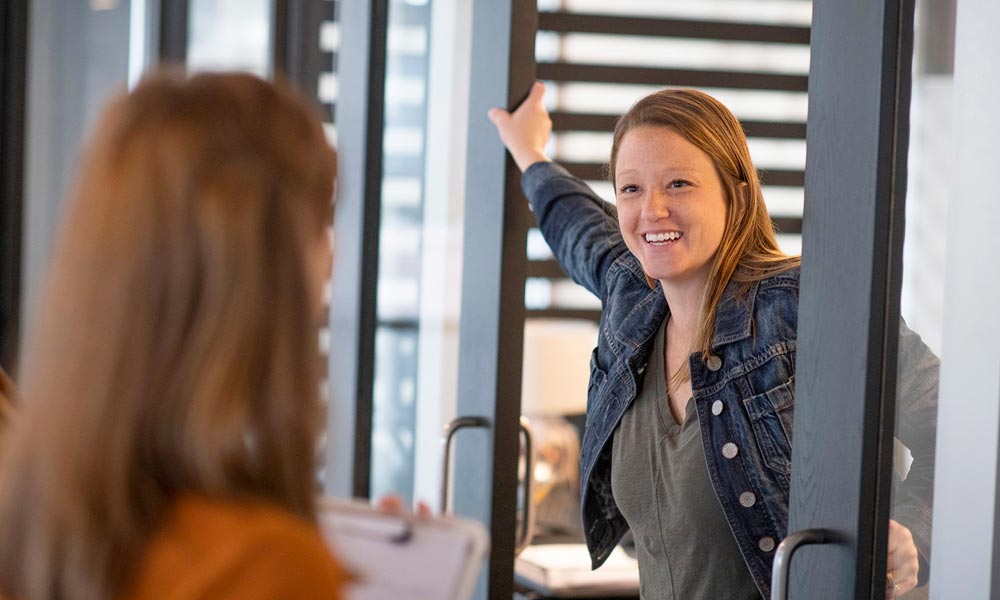 How
health systems

have grown with digital.

"Ten Adams assisted us with building a new cross-functional, mobile-first website. Our overall experience has been great, as they have helped us focus on the future of consumerism in healthcare."
Bill Donnelly
Digital Marketing Manager, Deaconess Health Systems
We serve only health systems.

With nearly 40 years of marketing and branding work for hospitals and health systems, Ten Adams employs surgical-like precision and expertise. We empower your team to live your brand in everything they do, From internal messaging that resonates with your patients to community-facing campaigns.
We create branding that supports your marketing efforts.

Added recognition and impact helps your promotion bring added influence because consumers are far more likely to opt for your services than less recognizable health systems. This credibility increases your brand awareness and will differentiate your organization from other providers in the market, giving you that competitive edge to boost your revenue and growth.
We're here to guide you.

We've been branding hospitals and health systems for nearly 40 years. We have a straightforward process and the expertise to guide you through it. In the end, the results speak for themselves, and you'll have a brand that resonates with your audience, turning patients into advocates. Healthcare
Digital Marketing Agency
It's no secret that the healthcare market is expanding in rapid and innovative ways. In response to these changes, providers are increasingly seeking new solutions to reach potential patients. They're employing diverse healthcare marketing tactics, and even hiring industry professionals to get their brand name out there.
A healthcare digital marketing agency is a specialized firm that uses digital tools to optimize healthcare providers' online presence. They leverage various strategies to convert potential patients. This creates an avenue for providers to effectively promote their services, interact with patients, and improve patient satisfaction.
These agencies specialize in digital marketing, which encompasses a wide range of techniques and channels to boost search engine rankings. Good marketing techniques are fundamental to any business, and for healthcare providers, they help in creating awareness and educating the public about their services.
Digital marketing agencies have a keen understanding of the online world. They possess the skills and knowledge to create, implement, and measure the effectiveness of digital marketing strategies. A healthcare digital marketing agency takes things a step further by applying these skills within the healthcare sector.
The primary focus of healthcare digital marketing agencies is patient acquisition. They use strategies like SEO to ensure that when potential patients search online for services, the client's site appears in the top results. This increases visibility and the chance of attracting new patients.
Through content marketing, agencies can also help healthcare providers share useful health information and updates about their services. This kind of relevant and valuable content not only educates the audience but helps establish the provider as a credible and trusted source of health information. This is vital to improving the provider's industry reputation.
Email marketing is another useful strategy employed by digital marketing agencies. Through personalized emails, providers can stay connected with their patients, send appointment reminders, and share health tips and updates about their services. This can drastically improve patient engagement and retention.
A healthcare digital marketing agency can even use targeted ads to reach more defined audiences based on demographics, interests, or specific health concerns. In addition to leveraging this targeted approach, these agencies often have access to data analytics tools to track the performance of different marketing campaigns and strategies.
This ultimately equips healthcare providers with valuable insights about their audience and the effectiveness of their marketing efforts, allowing them to make data-driven decisions and continuously improve their marketing strategies.
Healthcare Branding
Healthcare branding is an important component of success and longevity in this highly competitive industry. The way a healthcare provider positions itself in the market, how it's perceived by potential patients, and the reputation it maintains can have a major impact on its overall performance.
Brand building is not just about creating a visually appealing logo, however—it's about defining who you are as a provider and how you distinguish yourself from your competitors. It's about creating an image and reputation that resonates with your target audience, and it's where a healthcare branding agency can make all the difference in the world.
A healthcare branding agency is a firm that specializes in helping healthcare providers create and manage their brand image. This includes understanding the provider's mission and unique selling proposition, as well as the needs and expectations of their target audience. With this information, the agency creates a comprehensive branding strategy that effectively communicates the provider's value proposition to its audience.
Brand building in healthcare is more complex than in other industries for several reasons. First, patients aren't merely consumers, but individuals seeking care and compassion. A healthcare provider's brand should thus resonate on a more personal and emotional level. Branding agencies know how to communicate the provider's dedication to patient care, its commitment to innovation and excellence, and its ability to provide a comfortable and supportive environment.
Branding is also critical for patient retention. A well-established brand will keep patients coming back to the facility for care. Agencies ensure that clients' brands remain consistent across all patient touchpoints, from the reception area to the website, social media platforms, and even provider-patient communication. This consistency fosters patient loyalty.
Hospital branding in particular carries unique challenges and opportunities. A hospital is often seen as a place where critical and life-changing moments occur, and branding should echo this responsibility. A powerful hospital brand can instill a sense of trust and confidence in patients and help the hospital stand out in today's saturated market.
Choosing a Healthcare Marketing Agency
When choosing a healthcare marketing agency, there are several things to keep in mind. You want to partner with someone that understands your target market and has the expertise to deliver effective, tailored marketing strategies. Here are some key factors to consider when choosing a healthcare marketing agency:
Experience: Does the agency have experience working with healthcare providers? The nuances of healthcare marketing are vast, and it's best to choose an agency that understands the unique challenges and regulations of this sector.


Portfolio: Review the agency's past work. Have they worked with similar healthcare providers or institutions? Does their portfolio demonstrate creativity and strategy?


Testimonials and References: What do their past clients say about them? The top healthcare marketing agencies will be more than willing to provide references and testimonials.


Services Offered: What specific services does the agency offer? You may require a comprehensive digital marketing strategy that includes SEO, social media marketing, content marketing, and more. If so, make sure the agency can provide all the services that you need.


Knowledge of the Target Audience: Does the agency understand your target audience? In healthcare, your patients are your audience, and the agency should be well-versed in engaging with them effectively. For example, if you're a doctor, you should look specifically for a marketing agency for doctors, as they will be able to target patients looking for your services.


Communication and Transparency: How will the agency communicate with you? Regular updates and transparency about progress and challenges are critical in any partnership.


Data-Driven Approach: Does the agency use data to inform its strategies? A good agency will leverage analytics to track the performance of their campaigns, make informed decisions, and continually improve their strategies.


Cultural Fit: Finally, does the agency's culture align with yours? A good cultural fit can lead to a more productive and enjoyable working relationship.
Ultimately, there's no one-size-fits-all solution in terms of how to pick a healthcare marketing agency. So much depends on your specific needs, but by adhering to the aforementioned tips, you can narrow your search to those agencies that are most aligned with your needs and goals. For example, if you work in a hospital, a hospital marketing agency will be most able to meet your needs.

Ten Adams offers services to help hospitals and health systems enhance their brand reputation. By focusing on strategy, brand, digital, and marketing, Ten Adams drives revenue growth and helps organizations find their niche. This is crucial to standing out in the modern healthcare landscape.
What Makes the Best Healthcare Digital Marketing Agency
So, what makes a good healthcare marketing agency the best choice? It's a question more people are asking in an age where digital technology plays a pivotal role in connecting patients with healthcare providers. The following traits and services define the best agencies on the market today:
In-Depth Healthcare Industry Knowledge: An effective agency understands the intricacies of healthcare. They have a thorough knowledge of regulations, compliance requirements, and the unique needs of healthcare consumers.


Proficiency in Digital Marketing: When looking for the best healthcare digital marketing agency, it's important to choose one that's proficient in multiple digital marketing strategies including SEO, PPC, and social media management.


Data-Driven Decision Making: Good healthcare marketing agencies use data to guide decisions. They leverage analytics to understand user behavior, measure the effectiveness of different marketing strategies, and continually refine campaigns based on data analysis.


User-Focused Approach: Healthcare is all about people. A quality agency understands this and works to create patient-centric content that engages the audience on a deep level.


Adaptability and Flexibility: The digital marketing landscape is constantly evolving. The best agencies can adapt to these changes, quickly implementing new strategies and discarding outdated practices to stay competitive.


Strong Creative Capabilities: To differentiate themselves in a crowded digital space, agencies must possess strong creative capabilities. For example, an agency might specialize in crafting compelling copy or creating innovative marketing campaigns.


Robust Client Portfolio: An agency's past work can provide insights into its capabilities. The best agencies have portfolios of successful campaigns they've run for other healthcare clients, demonstrating their ability to deliver tangible results.


Transparent Reporting: A good agency maintains transparency with its clients. Agencies should provide regular updates on campaign progress and results, making it easy for clients to understand the value they're getting from their marketing investment.
Ten Adams has distinguished itself as a leader in healthcare marketing, bringing a deep understanding of the healthcare industry to the table. With a proven track record of delivering effective digital marketing solutions, Ten Adams' data-driven approach sets them apart in the highly competitive field of healthcare marketing.
By working with an agency like Ten Adams, your organization can find strategies that work. This is key to both attracting and retaining new patients and, ultimately, boosting revenue.