 Optimize operational processes and
improve the patient experience

while reducing costs.

Healthcare digital transformation is not about how much technology you have, but how digital your organization has become. From patient research through retention and every touchpoint in between, it's never been more critical for hospitals and health systems to capitalize on the efficiency that comes with digital transformation opportunities.
We assess and quantify your digital maturity, evaluating your digital capabilities, your team, technology, and processes. That truly improves the efficiency, effectiveness, and productivity of patient care.
We develop a comprehensive strategy including an implementation roadmap for process improvement, meeting external expectations, and boosting the internal productivity of your team.
We provide data on performance and intelligence to create clear, consistent, proactive insights and transformational goals. Whether you're dealing with legacy systems, websites, online databases, or automation processes, we're here to help.
At Ten Adams,
we guide your organization through a digital journey

that creates fundamental, lasting organizational changes by streamlining your operations, enhancing the patient experience, and making on-demand patient care more accessible for your patient population.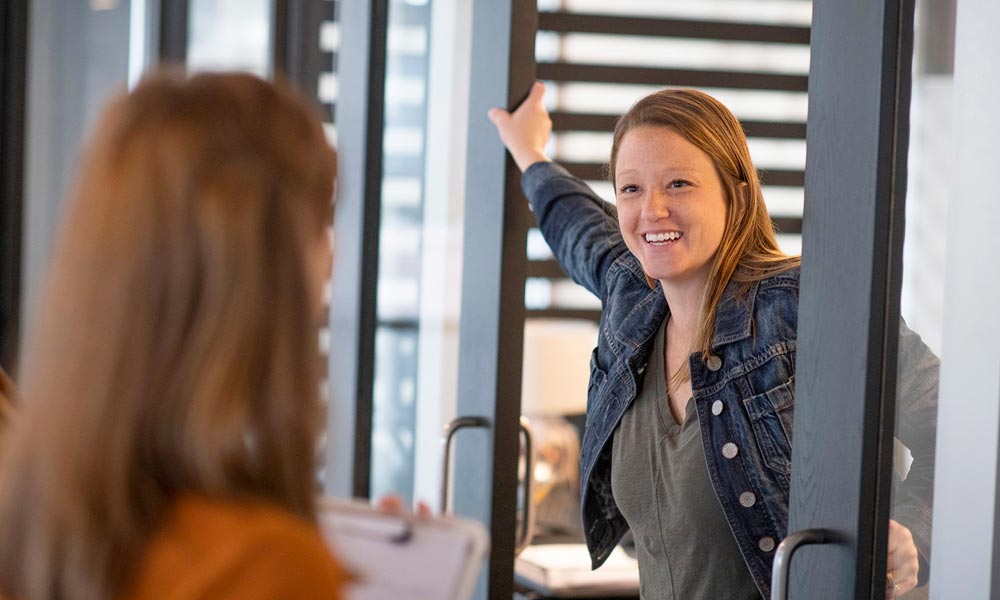 How
health systems

have grown with digital.

"Ten Adams assisted us with building a new cross-functional, mobile-first website. Our overall experience has been great, as they have helped us focus on the future of consumerism in healthcare."
Bill Donnelly
Digital Marketing Manager, Deaconess Health Systems
We serve only health systems.

With nearly 40 years of marketing and branding work for hospitals and health systems, Ten Adams employs surgical-like precision and expertise. We empower your team to live your brand in everything they do, From internal messaging that resonates with your patients to community-facing campaigns.
We create branding that supports your marketing efforts.

Added recognition and impact helps your promotion bring added influence because consumers are far more likely to opt for your services than less recognizable health systems. This credibility increases your brand awareness and will differentiate your organization from other providers in the market, giving you that competitive edge to boost your revenue and growth.
We're here to guide you.

We've been branding hospitals and health systems for nearly 40 years. We have a straightforward process and the expertise to guide you through it. In the end, the results speak for themselves, and you'll have a brand that resonates with your audience, turning patients into advocates. Healthcare
Digital Marketing
What is digital marketing? Digital marketing refers to using digital channels to promote a product, service, or brand. These modern marketing channels are proliferating as more businesses ditch traditional methods for online strategies. Encompassing everything from email campaigns to social media and content marketing, digital marketing is a critical strategy for promoting services and products to consumers online. Healthcare is a booming industry that's also becoming increasingly consumer-oriented, with patients looking for accessible health information. Consequently, hospital digital marketing has become a vital approach to reaching and engaging patients where they are—on the internet. This type of marketing allows hospitals and health systems to promote their services, build brand recognition, and connect with patients through personalized campaigns.

The importance of digital marketing in healthcare cannot be overstated. As more and more people turn to the internet for information about their health, it's crucial for healthcare providers to have a strong online presence. Through digital marketing channels, healthcare providers and hospitals can reach a wider audience and engage with patients in a more meaningful way.

The potential benefits of hospital digital marketing are numerous, including increased patient engagement, improved brand awareness, and the ability to reach and influence patients outside the hospital walls. Plus, digital marketing is often more cost-effective than traditional forms of advertising, making it an efficient way for hospitals to remain competitive in the healthcare market. Moreover, digital marketing provides a number of trackable metrics that organizations like hospitals can use to verify that their current strategies are working and make adjustments where necessary. Gone are the days of huge budgets going towards marketing campaigns that take more work to track. Digital marketing in healthcare is a strategy that is becoming increasingly relevant in the healthcare industry, and hospitals and health systems that adopt it stand to benefit.
Healthcare Social Media
Social media has revolutionized the healthcare industry by providing healthcare providers with a platform to engage patients and promote their services. Social media platforms like Facebook, Twitter, LinkedIn, and Instagram can also be used to connect with patients and educate them on health practices.

Healthcare social media campaigns can be a powerful tool for reaching new patients and retaining existing ones. However, there are also potential missteps that must be avoided in healthcare social media. Healthcare providers must ensure they comply with relevant patient privacy regulations and maintain appropriate boundaries when discussing medical conditions. Inappropriate use of social media in healthcare can lead to lawsuits and reputation damage. Despite these risks, many healthcare providers have successfully leveraged social media to promote their services and improve engagement with patients.

However, potential pitfalls must be avoided, such as inappropriate use of social media in healthcare. Examples of the inappropriate use of social media include violation of patient confidentiality, unprofessional behavior, and providing medical advice without proper qualifications. Healthcare providers and professionals alike must ensure that their social media accounts are not being used to make false claims or spread misinformation that has not been verified by qualified professionals. Furthermore, unprofessional comments or posts on social media channels can have far-reaching consequences on the brand image of any hospital. Fortunately, by developing a smart social media policy and following best practices, healthcare providers can effectively use social media to improve their marketing efforts and connect better with their patients.
Hospital Digital Marketing Strategy
The healthcare industry's future is tied to digital marketing strategies that use the latest technology and data analytics to improve patient outcomes, reduce healthcare costs, and boost revenue. Hospital marketing strategies are different from other industries. They focus on providing healthcare services and personalized patient care. One effective digital marketing strategy for hospitals is creating compelling website content that includes videos, infographics, blogs, and patient testimonials. The website should be user-friendly and optimized for search engines to drive organic traffic.

Marketing strategies for health and wellness centers include mobile health (mHealth) applications that offer patients information on care management and appointment scheduling. Email marketing is also an effective strategy to keep patients engaged and informed of new health updates. To effectively implement these digital marketing strategies, hospitals require digital marketing experts' assistance. These experts understand the healthcare market and the importance of retaining patient trust. Medical marketing consultants can tailor a marketing strategy that meets hospital goals to drive patient visits, revenue growth, and trust in the medical services provided.

Hospital digital marketing strategies designed with the appropriate tools can drive positive impact and outcomes as well as attract and retain patients in the healthcare sector. Digital marketing experts like medical marketing consultants can provide valuable insight and skills to effectively implement these strategies. By adopting these hospital marketing strategies, comprehensive and personalized patient care services can be promoted more effectively.
Healthcare Marketing Examples
In recent years, healthcare digital marketing has become increasingly important as healthcare providers seek to connect with patients online, build brand awareness, and promote their services. Several successful healthcare marketing campaigns have stood out in the industry.

One such campaign is the "Know Stroke" campaign from the American Heart Association, which uses animation videos and interactive tools to educate the public on stroke detection and prevention. The campaign's success is attributed to its ability to deliver an essential message in a visually stunning and engaging format.

Similarly, the "Share the Love" campaign from Children's Hospital Colorado creatively uses social media to encourage donations, with an emphasis on sharing the stories of patients and their families. The campaign's focus on the human side of healthcare and the personal connections that patients and their families develop with their caregivers make it particularly touching.

Both of these healthcare marketing examples demonstrate a focus on providing a valuable message to patients, being creative and engaging, and leaving a lasting impression on viewers. Successful healthcare marketing campaigns must appeal to the human side of healthcare and inspire viewers by highlighting the hard work and dedication of healthcare providers or the impact of the healthcare services they provide.

To attract and engage patients, it is important to build a strong online presence through healthcare marketing strategies such as creating visually appealing websites, comprehensive social media plans, email campaigns, and paid digital advertising. When developing a hospital digital marketing plan, it is crucial to identify the target audience and understand their specific needs and preferences. Examples of healthcare campaigns include raising awareness about new services and treatments, promoting community engagement, and building partnerships with other healthcare providers.

To build a successful hospital digital marketing plan, organizations must consider healthcare marketing, hospital digital marketing, and healthcare campaign examples that align with their business goals. Ten Adams, a healthcare marketing agency, can assist in creating a digital marketing plan for your hospital, providing expert insights, and using their marketing expertise to optimize your digital strategy. With their creative medical marketing ideas, hospital campaign examples, and healthcare marketing examples, Ten Adams can help you create a comprehensive digital marketing plan that meets your business needs and drive engagement with your audience.
Medical Digital Marketing
Ten Adams is a specialized healthcare marketing agency that focuses on medical digital marketing for hospitals and other healthcare organizations. The agency provides unique and comprehensive offerings that allow its clients to create tailored and effective digital marketing plans. Ten Adams has a team of experts that specialize in healthcare strategic planning, healthcare marketing, and web development, all of which play a crucial role in creating a powerful digital campaign. Additionally, they provide a variety of services that include market research, competitive analysis, and digital strategy development. All of these components combine to create a digital marketing plan that is both data-driven and comprehensive. By employing Ten Adams' services, hospitals can better engage patients, improve the patient experience and brand awareness, and ultimately drive revenue.
Hospital Marketing Plan Examples
When developing a digital marketing plan for a hospital, it is essential to follow specific steps to ensure success. These steps include conducting market research, identifying target audiences, determining goals and objectives, creating a budget, and developing a content strategy. For instance, Ten Adams, a healthcare marketing agency, can assist in these processes through its comprehensive and personalized services. Ten Adams can also provide hospital marketing plan examples and templates, along with creative medical marketing ideas.
Additionally, Ten Adams can help in marketing to healthcare professionals, which includes developing effective hospital recruitment campaign ideas. Ten Adams' unique expertise in hospital digital marketing makes them an excellent choice for those looking to take their healthcare marketing strategy to the next level.